30 MTS/ 1 HR QUAD BIKE TOUR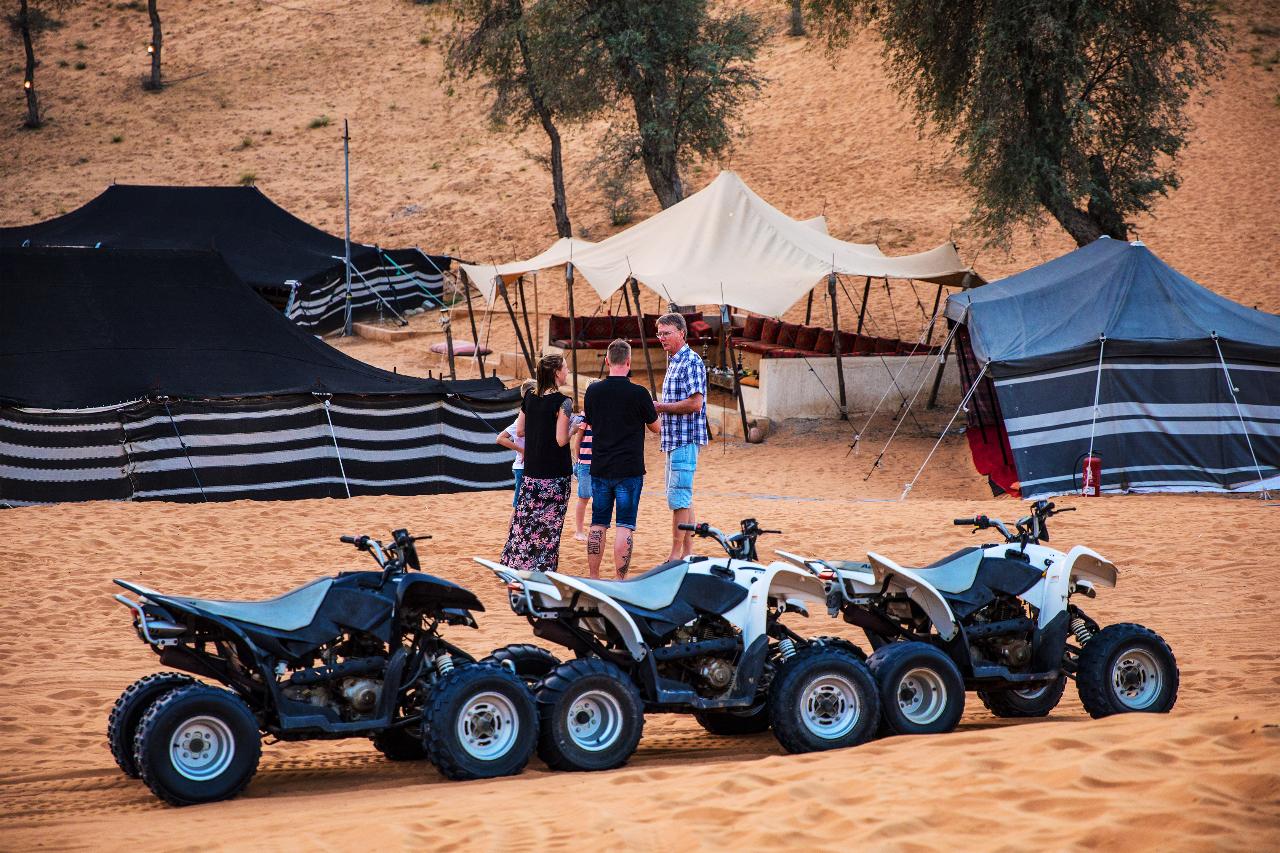 Duration: 5 Hours (approx.)
Location: Dubai, Deira
Product code: GTREG015
Imagine getting away from the tourist masses and enjoying the stunning natural beauty of desert. Now imagine doing it in a fun and exciting way, and watching the spectacular and dramatic sunsets that Bedouin Oasis has to offer without being part of a crowd of hundreds. Begin your luxury experience from your hotel.
Hop inside your comfortable, air-conditioned car, and sit back and relax as you cruise into the surrounding desert. After a while, arrive at the famous Bedouin Oasis Camp, a place to experience the real Bedouin life and Bedouin tents built with got hair. You may also enjoy the short camel ride and sand boarding at the camp before you move for dune drive.
While travelling through desert, watch for animals such as the rare Arabian oryx, herd of camels and many other common species, and learn about the flora and other features of the natural wilderness.
As the sun sets (applicable only for evening session with dinner program), enjoy your desert dinner in the most Authentic Bedouin Camp softly lit by flame torches and lanterns. As the stars twinkle above, enjoy the Middle Eastern and Asian-inspired dishes such as Grilled Vegetables, Sheesh tawooq, kabab, and fish N chips cooked by our chef right in front of you along with traditional Arabic bread and Hummus with fresh salads.
You will have the opportunity to try a shisha (Arabic water pipe) by sitting around the bonfire. Relax the rest of time with your favorite one on luxury cushions and gaze the sky dazzled with countless stars.
Return to your hotel where your experience ends with a hotel drop-off at 8.30 pm

Guest can choose between self driving to the camp or with transfer from RAK or Dubai.
PICKUP TIMINGS

RAK (8 am, 9 am, 10 am, 2 pm, 3 pm, 4 pm)
DUBAI (9 am & 2.30 pm)
INCLUSIONS:
30- mts or 1-hr guided Quad bike tour
Water, juices
BBQ dinner with live entertainment programs
Camel ride
Sand boarding
Sheesha around the bonfire (bonfire is depending on the particular day weather)
Enjoy the night sky
DEPARTURE 8:30-9:00 pm